Soul Surfer: A Thought-Provoking Film for the Whole Family
By Meg Korpi and Rusty Wright
Kauai, 2003. A 14-foot tiger shark bursts through the waves and tears off 13-year-old Bethany Hamilton's left arm. She loses 60 percent of her blood, and faces the end of her pro surfing dreams. Three months later, the unstoppable teen is surfing competitively again.
If you're looking for inspiration to thrive in tough times or to appreciate life more fully,
Soul Surfer—
the movie based on Hamilton's brush with death and remarkable comeback—will knock your socks off. The Sony Pictures release, starring AnnaSophia Robb, Dennis Quaid, Helen Hunt, and Carrie Underwood opened across North America in April, and will be available on DVD August 2, 2011.
Fantastic Surfing, Tough Competition, Heart-stopping Tragedy, Strong Character
The film's breathtaking surfing footage and heart-pounding athletic competition will appeal to sports enthusiasts. But Bethany's true story of gut-wrenching tragedy, driven character, and hard-won victory is what makes Soul Surfer worth seeing.
Pre-attack, Bethany (Robb) is a lighthearted kid, as well as a skilled surfer. (At 13, she ranked #2 among females 18-and-under in the USA.) After the attack, Bethany emerges as poised and determined, with a well-grounded spirit. Where does a 13-year-old gain the inner strength to remain surprisingly positive while adapting to a missing limb and rebuilding athletic prowess?
Why This? Why Me?
After the attack, Bethany struggles with the mundane (ever try slicing a tomato with one hand?), the profound (how could this be God's plan?), and the weighty ("will a boy ever like me with only one arm?").  In addition, as a champion surfer driven by love of the sport, Bethany confronts the likely loss of her career: How could she possibly paddle a surfboard, one-armed, through breaking surf, much less re-conquer championship surfing maneuvers? 
"I don't need easy; I just need possible" 
But a love of God also drives Bethany. In a story line that some may see as contrived, but which reflects actual events, her youth group leader, Sarah Hill (Underwood), encourages her with the biblical
assurance
: "'For I know the plans I have for you,' says the Lord. '…plans for good and not for harm, to give you a future and a hope.'"
As Bethany learns to rely on this truth, it compels her. With dogged determination, she decides to tackle surfing again. She seeks help from her father (Quaid).
"It's not going to be easy," he cautions.
"I don't need easy," replies Bethany. "I just need possible."
Inspiring Role Model
At the film's NYC premiere, director Sean McNamara offered insight into Bethany's remarkable fortitude. "Her faith was amazing. I watched her overcome adversity and [attribute it to her] faith in Jesus Christ … I'd been through years of Catholic school, but it's different when you actually see someone walk the walk and talk the talk."
This film will not necessarily please moviegoers who expect dark drama and gore from a shark-attack movie. Skeptics will likely scoff at the portrayal of Bethany's resilience and positive attitude. In fact, the filmmakers toned down the real Bethany's indomitable spirit for fear audiences wouldn't find her believable. "They kept wanting [her character] to act sad in the hospital," Bethany's brother Noah told us, "but she wasn't like that. She was upbeat."
Good teen role models are hard to come by. Thirteen-year–olds who inspire adults to greater courage are virtually unheard of. If one is open-minded enough to accept the fact that admirable and wise-beyond-their-years teens do exist, one could learn a lot from Bethany's example.
Soul Surfer is thought-provoking PG entertainment. The Hamilton family's faith is portrayed as integral to the characters, not preachy. The shark-attack scene is tame enough for the squeamish. We found the movie hard to leave in the theater, and carried it in our heads for days, reflecting on the individuals' character, wisdom and choices.   
Some of the real Bethany's insights are so profound and selfless that they're indeed hard for the rest of us to comprehend. She once said,
"If I can help other people find hope in God, then that is worth losing my arm for."
Amazing.  Grace.
Meg Korpi studies character development and ethical decision-making through the Character Research Institute in Northern California. She holds a PhD from, and formerly taught at, Stanford University.
Rusty Wright
is an author and lecturer who has spoken on six continents.  He holds Bachelor of Science (psychology) and Master of Theology degrees from Duke and Oxford universities, respectively.
www.RustyWright.com
Copyright © 2011 Meg Korpi & Rusty Wright
#    #     #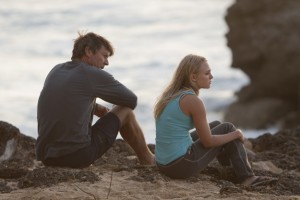 Bethany (AnnaSophia Robb) gets support from her dad (Dennis Quaid) as she considers what the future holds