Gay Mayor, Christians in Surprising Alliance
By Rusty Wright
"This is the largest, most successful … sustained … volunteer effort … the Portland region has ever seen."     Mayor Sam Adams
What happens when an openly gay mayor meets thousands of evangelical Christians?
Demonstrations?  Placards?  Anger?  Harsh words?
In Portland, Oregon, Mayor Sam Adams and colleagues have developed robust partnerships with area churches to tackle pressing community problems like homelessness, hunger, healthcare, sex trafficking, school dropout rates, and more.
At a recent panel discussion, Adams says he had wondered if a "very liberal city" and evangelical churches could pull off a mutually satisfying partnership.  "It had never been done before."  Now, several years later, he admits "It's been a lot of fun."
Snapshot:  Portland church members gave the city a $100,000 Christmas gift for school dropout prevention programs.
Paradigm Shifts; Successful Collaboration
Collaboration required mutual paradigm shifts.  Luis Palau Association president Kevin Palau says Christian leaders realized "we really had not built much of a relationship at all with our city leaders."  Many followers of Jesus remained on the civic affairs sidelines, sometimes critiquing but rarely engaging.  So churches sought to discover and help meet social needs.
Mayor Adams admits, "We're desperate.  Like a lot of cities, we're suffering through the recession; we don't have enough resources to provide the services that we need. … But I really didn't know if [the churches] could deliver."
In 2008, 26,000 Portlanders from over 400 congregations teamed for a "Season of Service" – now in its fourth year.
Adams concluded, "This is the largest, most successful … sustained … volunteer effort … the Portland region has ever seen.  It has gone incredibly well.  We don't agree on all the issues ….  But where we agree is far greater than the areas where we might disagree.  It was great!"
Quality Volunteers
Education and disadvantaged youth weigh heavily on Adams.  He says only about four in ten Portland eighth graders of color will graduate from high school on time.  "The students that need a positive, constructive connection with an adult are the ones that are least likely to get it."
Season of Service facilitates school cleanup and tutoring assistance.  Adams says the faith community and school district partnerships "have filled a breach that otherwise would just go unaddressed."
"The quality of the volunteers that we received and the staying power is really unmatched ….  It's hard to describe really how difficult it is to find that kind of quality volunteer elsewhere."
That $100K Christmas gift gained attention.  Christian families reduced their personal holiday gift spending to give toward city needs.  Pastor Ken Weigel asked city leaders, "If the churches of Portland gave you a Christmas gift that would benefit the 'least of these' in the city, what would that be like?"
Weigel's allusion is to Jesus' commendation for serving the needy:  "I tell you the truth, when you did it to one of the least of these my brothers and sisters, you were doing it to me!"
An offer to give the city money was a new experience for the cash-strapped mayor, who is more familiar with requests for project funds.  "It was disorienting" he jokes.
Groupthink?  Alien Abduction?
Adams confesses that he's had to confront some of his own biases about Christians and realize "I'm part of groupthink.  I've bought into media stereotypes that [are] mostly not true."  The experience, he says, has been "very enriching for me personally, for the city as a whole, humbling in how much we actually do share in terms of our common concerns."
Adams says, "I get calls from mayors of liberal cities all across the United States asking me if I've been abducted by aliens."  He tells them the churches and the city really do cooperate and that "we're better for it."
Rusty Wright is an author and lecturer who has spoken on six continents.  He holds Bachelor of Science (psychology) and Master of Theology degrees from Duke and Oxford universities, respectively.  www.RustyWright.com 
Copyright © 2011 Rusty Wright
#     #     #
Note to editors: Photo of Sam Adams follows.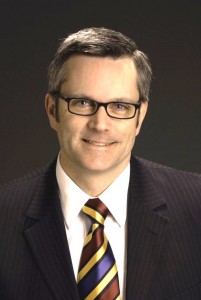 Portland Mayor Sam Adams
Source for above photo